Kiwa was only seven years of age when Poland was engulfed by war and he had only been in school for one week. When the war finally ended in 1945, he was 12; he had no idea where his mother was nor whether any of his family had survived.
On 5 May 1945, 12-year-old Kiwa Zyto awoke in his striped prisoner's jacket. He was in the forest near Munich in Germany. He was free. As the Allies approached, inmates were forced from the camp and forced on long southward marches by SS guards. But by the morning of 5 May, the SS men had fled.
By then, he had experienced the ghetto in Kielce, the Auschwitz-Birkenau extermination camp and the labour camps at Dachau and Landsberg. Kiwa arrived in Sweden in his striped prisoner's jacket.
Six years earlier, Kiwa had been living with his parents and three brothers in the Polish city of Kielce, some hundred kilometres south of Warsaw. On the outbreak of war in 1939, the Nazi Germany bombed Kielce. That same year, Kiwa's elder brother enlisted in the Polish Armed Forces in the USSR, but Kiwa and the rest of the family remained in Kielce.
Kielce had a large Jewish community, many of whom lived close to a sawmill. When Nazi Germany captured the city, the area was turned into a labour camp guarded by German soldiers. After a year of occupation, the family managed to flee into the forest with many other Jews from the camp. A few days later shots were heard in the forest and Kiwa's father was never seen again. Many of the Jews gave up the attempted escape and returned to the camp.
The entire war, from 1939 to the end of the war in 1945, was pure hell.
At the end of March 1941, all of the city's Jews were forced into a ghetto. The children were separated from their parents and nobody knew where they were being taken. Kiwa had hidden with two other children. In August 1942, the German's began to liquidate the ghetto. In a matter of days, over 20,000 people were deported from the ghetto to Treblinka and Auschwitz-Birkenau. Kiwa arrived at Auschwitz-Birkenau with his mother Zelda but they were immediately separated.
Kiwa found himself in barracks housing upwards of 400 children, the old and sick. He realised that he had been selected for death. That night, Kiwa asked a few fellow inmates if they wanted to escape with him. Although they did not dare, they helped him to get out. He jumped through a window and ran to another barracks, where adults agreed to hide him. When prisoners were being transported to another camp, Kiwa managed to get aboard a transport to Dachau, from where he was subsequently moved to Landsberg.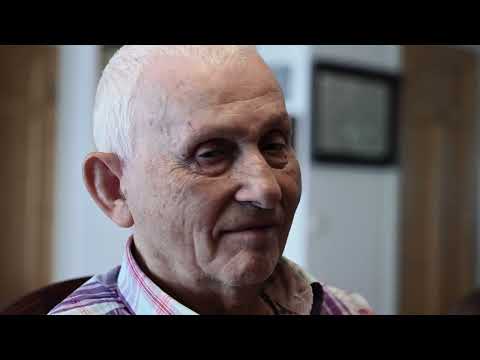 The prison jacket. Kiwa Zyto tells.
American troops evacuated the survivors at the end of the war and Kiwa ended up in a school just outside Hamburg, Germany. He had no idea of what fate had befallen his family.
In 1945, Kiwa's brother Marek returned to Kielce from the eastern front. He somehow found Kiwa and two of the four brothers were reunited in Germany. They found their mother's name Zelda on a list. Zelda had survived in Auschwitz-Birkenau until the camp was liberated, after which she travelled to Sweden on the White Buses. Kiwa and his brother Marek went to join her.
In 2012, the year he turned 80, Kiwa told his story in an interview on Swedish radio. 'The entire war, from 1939 to the end of the war in 1945, was pure hell', Kiwa told the interviewer. It was not until he was 12 years old that Kiwa could begin school again.
Header photo: Detail of Kiwa's ID-card. Photo: Ola Myrin, Swedish Holocaust Museum/SHM.
Source:
Kiwa has lent his striped prisoner's jacket to the Sweden Holocaust Museum. Kiwa, his mother Zelda and brother Marek have been interviewed by the USC Shoah Foundation and the interviews are available in the Visual History Archive.

Sveriges Radio, interview with Kiwa Zyto, published 25 January 2012, https://sverigesradio.se/artikel/4928525